Roditelji Azre iz Kozaruše uz podršku osnovne škole Kozarac,obratili su nam se za pomoć, kako bi joj olakšali djetinjstvo,jer je maloj Azri potrebna medicinska pomoć.Ona se od svoje treće godine života već bori sa inzulinom,njena majka provodi cijelo vrijeme sa njom u školi, kako bi nadgledala njen inzulin koji varira.

Kao medicinsko rješenje je predložena dodatna inzulinska pumpa, sistem za praćenje glukoze i 10 senzora za glukozu,čiji predračun iznosi 11.500,00KM.
Ona već duže vrijeme čeka na pomoć od institucija, ali to može po običaju beskrajno trajati.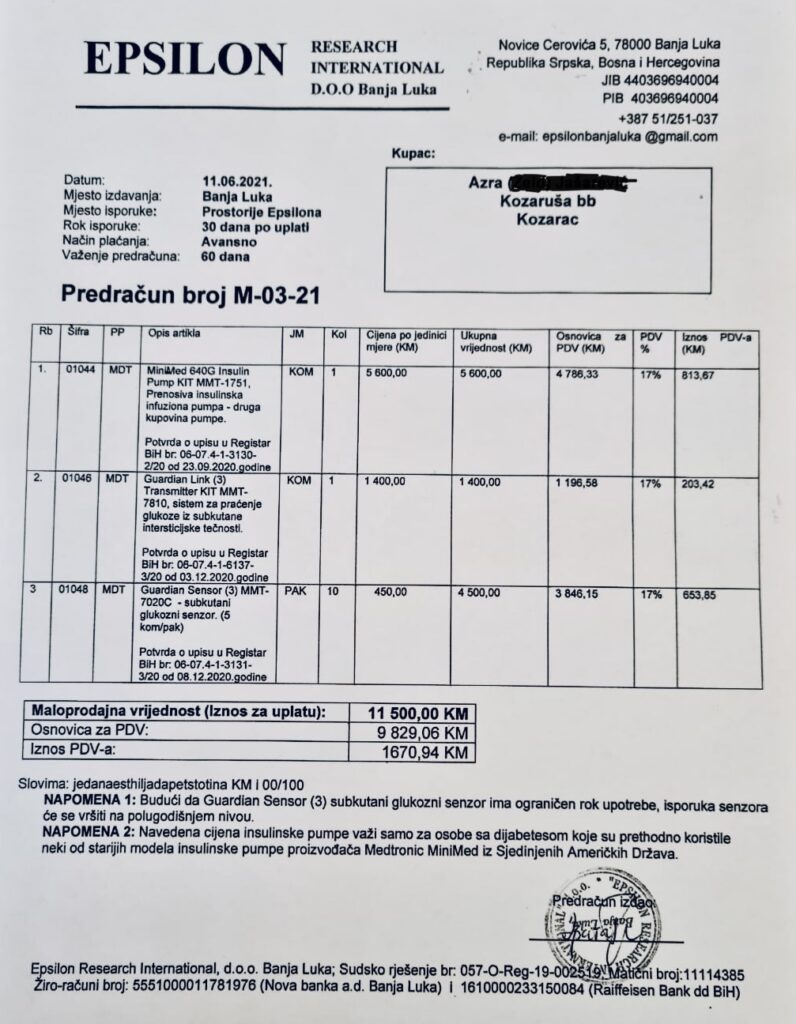 Radni tim je na osnovu gore navedenog zahtjeva odlučio, da nam je dužnost po prioritetima uključiti se u akciju, kako bi se maloj Azri pomoglo.
U akciji koja će trajati do 15.04.2022 podržati će nas i O.Š." Kozarac", a nadamo se velikom odzivu dobrih ljudi, koji će ovu šansu iskoristiti da postanu članovi naše organizacije. Ova akcija ne cilja na to da stotinjak ljudi pomogne sa 100,00KM nego 1150 ljudi po 10,00KM.
Mi ,kao mala zajednica moramo poslati poruku da zajedno možemo sve uspjeti, da je vrlo važno da samo ,organizovano možemo i moramo jedni drugima pomoći i imati kome se obratiti za pomoć.
Radni tim je odlučio sve uplate koje evidentiramo od dana objave, odvojiti za njeno liječenje. Ukoliko ta suma ne bude dovoljna, radni tim je odlučio da neke planove, koji su manje bitni od dječijeg zdravlja, odložimo za kasnije, kako bi se sredstva do 15.4.2022 iskupila.
Radni tim
Humanitarna organizacija Kozarac